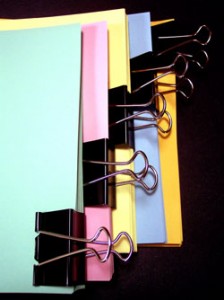 "How do I know what genre my novel fits into?"
I see this question a lot.
It's not that authors aren't familiar with genres — although with the proliferation of sub-genres cropping up daily, it's hard to keep up — but often it's because they feel their books could fit more than one genre.  They don't want to be pigeon-holed.  They don't want to miss a potential audience.  At the same time, picking a genre is expected.  What to do?
First:  get familiar with what's out there.
One of the easiest ways is to look at a bookstore, whether it's online or bricks-and-mortar, and see how they classify fiction.  This changes a bit over time.  (Anybody else remember when they had a "Chick Lit" section at Borders?  Hell, anybody remember Borders?)
Here are some of the most common umbrella genres.

Action/Adventure — stories including epic journeys, lots of conflict, high stakes, some violence.
Erotica — stories of sexual exploration.
Fantasy — stories usually involving magic, other worlds, mythological/mystical figures.
Horror — stories that invoke fear.
Literary Fiction — stories with a focus on the quality of the prose over the narrative arc.
Mystery — stories that involve solving a crime, usually a murder. 
Thriller/Suspense — stories of high tension that can involve either action or mystery.
Romance — stories about love/intimacy.
Sci-fi — stories usually involving technology, aliens, science-related alternative worlds.
Westerns — stories taking place in America's "Old West," often with focus on justice. 
Women's fiction — stories about women experiencing emotional growth.  Primary emotion:  hope.
There are obviously lots of sub-genres for most of these categories. Also, I've left out Children's/YA/New Adult fiction, simply because you can have these same umbrella genres within those categories — it's more about the age of the protagonists rather than the subject matter, and the targeted age of the reader.  So you can have YA paranormal romance, or Middle Grade sci-fi, or what have you.
Next, look at the "genre qualities" of your book.
Did you have a genre in mind when you wrote it?  If not, given what you've just learned about the genres, and what readers expect from each genre, where might it possibly fit?
Most importantly, which of the above audiences would be the most happy with what you've written?
Example:  Jennifer Crusie's Welcome to Temptation. 
It's a book about two sisters who go to a small town to make a film.  It involves a love story. There is also a mystery.  There is also a decent amount of sex.
That said, it's not really a mystery, despite the dead body and various machinations as the murderer is discovered. It's not that difficult to solve, and it's not the primary focus.  Mystery readers, who are driven to figure out "who did it?" will not be satisfied at the dilution of the mystery with elements that they'd see as secondary: the love story takes up way too much real estate.
It's also not an erotica.  While the sex is steamy, the focus is more on falling in love and emotional intimacy than sex as a vehicle of character development: there are character development scenes with the heroine and the hero's child, for example, or the sisters discussing their past.  For someone looking to read erotica, this would seem extraneous, and possibly slow-paced or boring.
It is definitely a love story.  The mystery elements and the sex both serve to reinforce the growth of the love between the protagonists.  So the genre that makes the most sense is romance.
Another example:  Jim Butcher's Dresden File series.
The protagonist, Harry Dresden, is a detective, solving cases that usually involve murder on the mean streets of Chicago.  He tackles a lot of epic adventures, giving it elements of Action/Adventure.
That said, he is also a Wizard.
They are definitely mysteries, taking a page out of the classic noir novels.  It would definitely satisfy a lot of mystery readers… if they were also amenable to the magical/mystical features of Fantasy, which many might not be.  Same with the action/adventure reader set.
Fantasy readers — specifically Urban Fantasy readers — would be very satisfied by the other-worldly aspects, the world building, and the magic and mystical figures.  The action, adventure and mystery all work with the fantasy element.  Harry shoots things with fireballs and magic spells as well as shotguns.  He solves mysteries that may or may not involve fairies, necromancers, or mythological gods.  It's immersive, with world building so thorough that you are completely drawn in.  Urban Fantasy is the best fit.
Finally:  identify why you want to know.
There's a difference between choosing a genre for a potential agent, for example, and choosing a category for a self-publishing listing.
When you're writing a query, you want to show the agent that you have a sense of who your target audience is and where your book would most likely sell.
You might think "but isn't that the agent's job?"  and indeed, said agent may have some opinions on how to better position your work.  But if you don't have any clue, and you just dump a book in his/her lap with the expectation that they will read through it and glean the positioning, it's a harbinger of things to come.  Tacitly saying "but that isn't my job" when it comes to something as relatively simple as genre choice suggests that you're really going to balk when it comes time to actually  market and promote the thing.
For an agent, choose the most likely readership. 
As I mentioned, mystery readers could enjoy Jim Butcher's Dresden Files. But they aren't the most likely readership.  An agent will want to know what's the most likely readership — who is the mostly likely to seek out this particular type of book, buy this type of book, and enjoy this type of book.  Not someone who stumbles across this book and decides to give it a try on a whim, enjoying it more than he expected.
For self-publishing, you're looking for the most likely category, and the least populated fit.
When uploading a digital self-published release, you're allowed to choose several categories/genres for your novel.  These are pretty fluid: bookstores like Amazon change their listings of sub-genres all the time, so it's a bit of a moving target.  But what you want is to choose a broad genre that fits your right reader's expectations, just like you'd choose for targeting an agent.  Then, you're also going to choose a niche, preferably one that isn't heavily populated, that also fits your novel.
If you have a mystery that involves a police detective, you could pick "Mystery, Thriller, and Suspense" as a category.  Looking it up under Kindle Books, however, you will notice that it has 107,974 results offered — that's how many ebooks use the same category.
The odds of you getting in the top 100, where many readers look for new authors, or anywhere near a "category bestseller" that will kick on the Amazon Recommendation Engine, is pretty paltry.
Look at the sub-category "Police procedurals" and  the number of books specifically categorized as such drops to 4,844.
To really get specific, if you had a "cat sleuth"?  The number of books drops to 23.  You'd be in the top 100 by default!  (Remember, if you don't have a cat sleuth, don't select it just to get a better category ranking.  Getting bad reviews from dedicated niche readers who feel mislead isn't worth the ranking boost, in my opinion.)
Remember, you can generally pick two categories.  Try to hit one broad category, and one narrow niche.
It's more art than science.
There isn't a hard-and-fast way to figure this out, but hopefully these tips will give you a simplified approach to looking at what emotional satisfaction your work provides for genre audiences, and how to move forward.  Don't be afraid to take a stand — and don't worry if you have to amend your stance later!
What do you think about the genre listings?  How would you categorize your work?
Please leave a comment — I'd love to hear what you think!