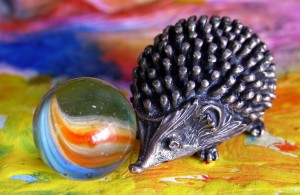 A lot of people seemed to respond to my initial post on how to profile your target audience, so today we're going to continue in that vein.
Missing: One Hedgehog.
The stumbling block seemed to largely be figuring out what's special about your story, or what I call your Hedgehog.
I remember working with an author who, when I asked "what's special about your story? What makes it unique?" then answered:
"It's a category romance. How unique does it need to be?"
Make no mistake: she loved category romance, and it wasn't an intentional insult. In fact, if anything, it was a recognition of the sort of mental trap writing genre fiction can do for promotion.
You think "hell, I write Regency Romance/cozy mystery/vampire urban fiction.  I love my stories, but there are a billion of them out there.  I'm just going to put it out there, hope readers realize that they love my voice, and tell their friends."
It's more than your voice.
Yes, your voice is going to set you apart. But it can't be the only thing.
Let's look at the current everybody's-writing-one genre: vampire fiction.
You've got your Twilight, your True Blood, your J.R. Ward Black Dagger Brotherhood.  Hot and sparkling and the whole damned gamut.  All of them deal with the same thing: vampires.  But you'll notice each of them have their own signature.
Twilight is young adult, to start.  Then again, so is P.C. Cast's House of Night series.  Different settings: different mythologies.  Definitely a different feel and different treatment.
Charlaine Harris has written a series of vampire mysteries, basically.  J.R. Ward has written an urban fantasy romance series with plenty o' steam and a wild mix of aristocracy and ghetto fabulousness.  (If you read her, give me a "true dat!")
My point is:  there is always something different. It's never just "voice."
Start with your genre/sub-genre.
What story are you writing?  If you were only allowed to shelve it in one section of a bookstore, where do you think it would most likely sell?
This will at least give you an idea of what you're differentiating from, and where your Right Reader most often hangs out.  Granted, your Right Reader probably wanders around a bookstore or browses through online store categories, but there's one place that's going to be a comfort read.  You want your book to live there.
Also, you want to be able to use the shorthand of genre to describe what you've written, then add your twist.  "I've written an Urban Fantasy about demons (the genre/subgenre), where a spunky secretary discovers she's just signed on to help her boss kill thirteen people to get back his soul (the hook/differentiator.)"
Don't worry — we'll talk about hooks, twists and differentiators in a second.
What book or series is it most similar to?
Unless you're Chuck Palahniuk, do not tell me "it's different than everything." (If you are Chuck Palahniuk… well, then. Do whatever the hell you want, obviously. <g>)
If you're writing genre fiction, you've got certain conventions that you have to maintain simply to provide the reader with a satisfactory experience.  When I read a romance, I want a happy ending, damn it.  When I read a mystery, I want a corpse, not a misunderstanding.
I don't care how brilliant a writer someone is, if she sets me up and then plays me, that book's hitting the wall, then the donation box.
Once you know who you're similar to as far as voice and subject matter, you've again got a frame of reference.
One of these things is not like the others…
I'd say, read a lot of things in your genre/subgenre.  Especially look at the bestsellers… they're there for a reason, and odds are good your Right Reader has read them.
What are the conventions and stereotypes of the genre?
Vampires — blood sucking, sexy sophisticates,  sleep-all-day-party-all-night.  Dracula.
Fantasy — sword & sorcery, wizards, powerful person somehow in disguise, band of companions, quest.
Cozy mystery — small towns, amateur sleuth, gossipy communities, kitschy gimmick
Now look at what you're doing.  You're going to want similarities — again, don't want to completely spin out of genre orbit — but you're looking for what makes you different.
Let's take my original one:  category romance.  You're writing not only for a fairly standard genre, but you're writing for a very narrow niche where there are strict interpretations.  You may not even think you need to come up with an angle — the books sell themselves.
They might — but they don't sell you.  And the most important reason for finding your Right Reader, and emphasizing your differences?
To get them to notice your writing.  And, you know, want more of it.
So you look at what's standard, what's expected.  Let's say you're writing for a "hot" series line.  Looking it over, you see lots of Alpha males, high-powered professions perhaps, or conversely heroic ones (firefighter, Navy seal, etc.)  You see sassy women.  Since heat is a key, the scenarios tend towards couples thrown together, or agreeing to brief flings only to discover they're stuck for whatever reason for an entire novel.
Ideally, you're going to twist one element. You're going to take one stereotypical standard, and tweak it so the reader is surprised… and intrigued.
Most important: focus on what you love. Why you wrote the story.
If you're writing more of a conventional story, don't despair.  Instead, pour even more love into what you originally wrote the story about.
If you wrote a story because you love the idea of a wounded hero, perhaps a veteran returned from the war who falls in love with his at-home nurse… you go with that.  Yes, it's a familiar trope.  But that doesn't mean it's not powerful, and shouldn't be emphasized. And that's definitely what you want your Right Reader to appreciate.  So how better to connect with him or her than to put that out front?
Hopefully, in all these questions, your Hedgehog is going to amble out and say hello.
Trust that there's something unique in your work.  If you don't believe it, no one else will.
In the next post in this series…
The final part of the series, next week, will show you some ways to piggyback on greatness when it comes to profiling your target audience.
If you found this helpful, please re-tweet on Twitter, or "like" on Facebook (you can even use the handy-dandy little boxes, below, where it says "share the knowledge!")