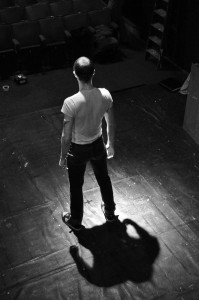 Note:  big thanks to relatively new subscriber Annie for this topic!  🙂
One of the things I often catch when I'm editing a manuscript is the dreaded "show, don't tell."  The story's going along swimmingly, then suddenly you hit a sand trap of several lengthy paragraphs of exposition. Sometimes, I can't even remember what's happening in the scene, and need to flip back to pick up what the originating action was.
The writer is telling me what's happening, who it's happening to, and basically what I need to know… and, if we're being honest, the writer is trying her damnedest to tell me how to feel about what I'm reading.
But, being the recalcitrant reader that I am, I don't want someone telling me how to feel.  I want to make the decision for myself.
Getting your (control) freak on.
It's an easy trap for writers to fall into.  We want so badly to set the scene and control the reader's experience that we start dictating rather than letting a scene unfold organically.
We want to explain without a shadow of a doubt the magnitude of what our protagonist is wrestling with — so we crawl into his head, and start narrating what his thought process is.
We want to show that while the heroine's actions up to this point have been unsympathetic, she's got a ton of baggage — which we'll then devote a page and a half to explaining.
We don't want there to be any misunderstandings… and consequently, we suck the life right out of our manuscripts, and replace it with a symbolic stone carving instead of a living person.
Trust your reader.
Let's say we're sitting at a cafe.  A guy walks up.  "Oh, this guy is a total asshole," I mutter to you.
He walks over.  "Oh, hi, Cathy!  Did you get that book I left for you on your desk?"
"Yes," I reply, with a tight smile.  "It was very thoughtful of you."
"I just wanted to thank you for helping me with that project."  He smiles gently. "And this must be the friend I've heard so much about.  It's great to meet you."  He shakes your hand.
Then he walks away, and I say, "See?  What did I tell you?  Total asshole!"   
Basically, you're going to assume that either I am crazy, or that there's some history between the guy and myself that causes me to froth at the mouth. Even if I explain at length why I feel the way I do, you're still going to have a niggling doubt because of what you personally experienced.
Now, let's say this happened instead:
"Get out of my way!"  The guy snaps at a woman who is trying to maneuver two arms full of groceries while riding herd on a toddler.  "And could you keep that damned kid quiet?"  He brushes past her, ignoring the fact that he's set her off balance.  Her groceries tumble, and the kid starts crying.  He just keeps walking to me.
"Hey, you owe me money."  He's glaring.
"What?" I answer. "Why?"
"Because I bought your stupid book, that's why.  I want a refund."
I look at you.  Do I even need to tell you my opinion of this guy?  No.  Why?  Because odds are good you already made the connection.
I'm not saying that you need to draw your characters quite so broadly to get the point across.  What I am saying:  trust your reader to draw the right conclusions.
An exercise.
If you've gotten an edit that says "telling, not showing" on your work, I'd like you to try the following exercise.
Take the scene, and write it as if you're writing a play.
You can describe your character.  You can describe the setting.  You can write the dialogue and give stage directions.
But you cannot write one word about how the character is feeling, what his/her backstory is, or what he/she is thinking about.
In most cases, I'd take out any description of how the character delivers the lines.  Think about it like a play — if you've written your dialogue clearly enough, if the scene is clear enough, then how the lines should be delivered ought to be evident.  (This also helps eliminate a lot of those pesky adverbs people keep carping about!)
I'm not saying that all fiction should be written in a play-writing style: there's a richness to prose and an art to novel-writing that is necessarily different.  However, if you find yourself falling into the "telling, not showing" trap, this is one quick cure.
Experiment with alternatives.
That scene, where you have the heroine ruminating about her poor upbringing?  Figure out a way to show the audience that instead.  Would you have her impoverished crackhead mother calling her, screaming for money?  Or simply showing her apologizing profusely to a bill collector, who is awkwardly embarrassed because "it's not that big a deal"? Maybe show her squirreling money behind light switches in her house?
If you've got a handsome rogue who's actually a nice guy, how would you show that?  The stereotype would be to show him being nice to a dog or a child.  How else can you do it?
Donald Maass, in his wonderful Writing the Breakout Novel Workbook, discusses writing down ten possibilities for how a scene could be handled to get a point across — the first five or so are usually cliches, but as your creativity stretches for the next five scenarios, that's where you find the juice.
Play with different, non-cliche ways to get across what you're saying in exposition.  Then try the "play" technique, and write the scene in action and dialogue.
Like magic, you'll see just how quickly your mind gets trained to show, not tell.
For those of you who find this helpful, please re-tweet!