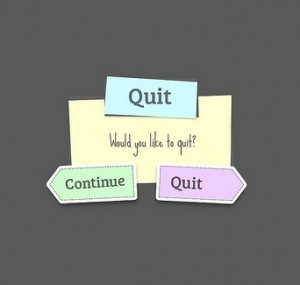 Probably the biggest complaint I hear from writers is that they "don't have enough time" to write.
This is usually followed, in the next breath, by listing all the things they've got going. All the social events, clubs, projects, volunteer activities, charity work, parental commitments, etc., they have been participating in.  And then how exhausted they are.  And how they can't fit writing in anywhere.
Even though writing is supposedly a "priority."
Even though publishing is "all they have ever dreamed of doing" with their lives.
The problem is, no matter how much of a priority something is, if you're not making time for it, it really isn't a priority. No matter how many times you call it that.
Actions speak louder than words. If you say writing is a priority, then take action to make it a priority!
So, how do you make time for writing? By quitting.
What?! "Quit," you say? But winners never quit and quitters never win!
I beg to differ.
When is Quitting Okay?
How many of you struggle with quitting reading a book that you hate or that's boring?  How many of you are still volunteering for something that no longer interests you or that you've come to dread?
Quitting, even something you've come to despise, can be really unpleasant for some folks.
But in order to make writing a priority, you can't just talk about it.  You have to really make it one of the most important things in your life (maybe behind your kids, spouse, health . . . things like that). Remember this, again:  actions speak louder than words.
So, when is quitting okay?
When you're doing too much –We often do all the things, volunteer for everything, and accept every invitation because of FOMO (Fear of Missing Out).  But you can't do everything, so it's okay to be selective. There's only so much time in a day, and spreading yourself thin can be hard on your health, family, and most definitely any chance you have of starting or maintaining a writing career.
When you're doing things that aren't yours to do – Are there things you're doing that really should be the responsibility of someone else?  Or could they be someone else's responsibility?  Delegating is a parent's best friend. No one says you have to clean up after everyone or cook all the meals or drive all the carpools.  If a task can (or should) be done by someone else, hand them their responsibility and stop doing it all yourself.
When you're only doing it out of habit — Just because you've been watching the same soap opera every day for the last ten years, doesn't mean you have to keep watching it. If you're only watching it out of habit and not really enjoying the rehashed plotlines, it's time to quit.
When you're only doing it because you spent money on it – This is a big one and really hard to get past for some people.  Even if you spent money on something, if it no longer brings you joy, quit. So what if you invested $1000 on piano lessons?  If practicing bores you to tears, you suck at it, and you don't love it anymore, there's no reason to keep pursuing it. You may have invested your money, but stop investing your time on something you dislike doing.
When you're only doing it because someone else expects you to – Did you join a club because your friend begged you to, only to find that you no longer care?  Quit.  If your friend is a true friend, they will understand that you need to make writing a priority in your life.
When what you're doing doesn't support your goals — Don't let saying "yes" become more important than reaching your own goals and dreams.   If the activity in question isn't supportive of what you're reaching for in your life, it's time to quit.  If it doesn't bring you joy, quit.
How (and What) to Quit
Once you've made the decision to quit those extraneous things in your life to make more time to write, how do you go about it?  How do you decide what has to stay and what can go?
Make a pros and cons list –  Not sure whether you still want to belong to the service club you've belonged to for ten years?  What do you like about it? What do you dislike about it? If there are any cons, consider quitting if there's no passion left.
Ask for outside opinions from trusted friends or family – Is there anything in your life that they have been telling you to quit?  Ask for their honest thoughts . . . keeping in mind that if you're trying to quit an activity that they are invested in, they might not be the right person to ask.
Figure out how much extra time you'll gain by quitting –  How much time do you spend at each of your activities on a weekly basis?  Start by calculating the most time-consuming activity you participate in, and see if it still seems as appealing, if quitting it could give you back that equally large amount of writing time.
Finally, try applying the KonMari method – From the crazy popular book The Life-Changing Magic of Tidying Up by Marie Kondo, this is really meant to tidy up your life by getting rid of material things that no longer bring you joy.  Applying this same method to the activities you participate in, though, could have an amazing effect on the time you have available to write!
One thing Kondo suggests in the book is clearing out all at once, rather than little by little.  Throwing one thing out a day isn't going to clean your house up fast. On the other hand, ridding your house, all at the same time, of every item of clothing that isn't bringing you joy will feel so good, you will be less likely to "relapse" into bad habits or add more things to your wardrobe that leave you joy-less.
Same with that long list of activities you participate in!  Try listing all the things you do (aside from the necessary things, like feeding your kids and getting regular dental checkups) and then go through them one by one, all at the same time, and decide what really brings you joy.
"Start by discarding," says Kondo. "Then organize your space, thoroughly, completely, in one go." [Emphasis mine.]
And by "space," in this instance, we're talking about your writing "space" – the time you spend, or want to spend – pursuing your goals and dreams.
Once you know what brings you joy, you know what to keep.  Ditch the rest.  Be a quitter and make time for the writing that you love and want more time for!
Final Quitting Thoughts
Remember, nothing is permanent.  If you quit something and then later find you miss it too much, you can always go back. As long as you aren't doing it to procrastinate from writing.
If the idea of the KonMari method and quitting things all at once is a bit too much, or if you're just not sure you want to give up a particular thing yet, at least commit to checking in again in six months to see if you still feel the same about it.  Once you've got the idea in your head that you may want to quit this activity, you might find all kinds of reasons cropping up that support this.
Another thing to keep in mind is that we're talking about quitting things that prevent you from writing — writing that you have determined is a priority for you.
Quitting 101 isn't a primer on how to quit writing.  Writing is hard work and not always fun.  But there's a huge difference between quitting something because it's hard sometimes and quitting something because it leaves you no room for what's really important in your life.
If you've committed to a writing career and decided it is your priority, then look for things to quit that don't support this priority.
Being a quitter isn't always bad. Quit the right things. For the right reasons.
And then go Rock Your Writing with all that free time you have.
~  Shannon McKelden