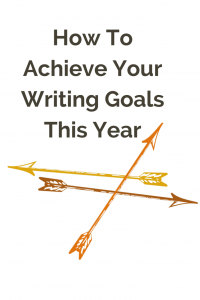 This is the year. The year you're finally going to:
Finish that book.
Write that book.
Stick to a writing schedule.
Get an agent.
Self publish.
(Fill in the blank.)
You get the idea. It's New Year's, the time of resolutions. We resolve that this year will be different — not like last year, where we made up a list and didn't follow through.
Or the year before that. Or the few years before that, really. 
The definition of insanity.
They say the definition of insanity is doing the same thing, but expecting different results.  In other words, saying this year will be different, but approaching it the exact same way (with a list and a lot of resolve)… which has almost no chance of succeeding, because the process itself is flawed.
That doesn't mean "don't make resolutions", mind you.
It means change your approach. 
What do you want?
First off, you'll want to tighten your resolution up and create a specific goal, one with a clear marker of accomplishment.  Saying you'll finally write a book this year is good, but also vague.  Pick a project. If you don't have a project, might say you'll want to write one type of book, in rough draft, by the end of the year.  So instead of "I'll write a book this year" you can say "I will write one Epic Fantasy novel, in rough draft, by December 31, 2015."
Then… WRITE. IT. DOWN.
Seriously. Written plans are twice as likely to succeed as unwritten ones. Putting it somewhere you'll see it (and actually register it and refer to it) would be even more helpful, but the act of writing it down is a crucial first step. 
Why do you want it?
The next question (the Motivation to your Goal, for my fellow GMC fans!) is:  why do you want it?  And what's the why behind the why?
Knowing what motivates you — why the goal is truly important — is often the key to what's standing in your way. The more important it is to you, the scarier it is. The more afraid you are, the more you'll find yourself sabotaging yourself, actively or passively, to try and escape the perceived pain of the achievement (or failure).  On the other hand, if it isn't that important to you (or if you haven't identified why it is), the more likely you are to get sidetracked by other shiny objects.
So why do you want to write?  Don't just think about it.  Write that down, as well.
What are your pain points and obstacles?
You don't sit down and write a book in one clip. (At least, no writer I know does!)  Books are made of chapters, which are made of scenes, which are made of sentences, which are made of words. It's a cumulative effort. If you're the planning sort, outline. If you're not, at least have a rough idea of how many words you'll need to complete by the end of the year to get a ballpark estimate. (I would also strongly recommend at least sketching out preliminary plot points, so you know where you're heading.)
Then, look at the last year. What stopped you from writing? What do you know is a stumbling block? For me, writing fiction after lunch is a crap shoot: my natural energy is low until about 5 pm. I'm more likely to get that scene written first thing in the morning or after 8 pm.  Also, if I've got more than three calls scheduled in a day, I'm usually too brain dead to accomplish anything… so if I didn't get writing done first thing in the morning, it just isn't getting done.
What's stopping you?  Lack of plans?  Lack of energy?  The dreaded inertia, where you know you "should" write but you either find something more fun to do, or convince yourself that something unimportant "must happen now"? 
What's your plan?
If you know you self-sabotage, for example, when you're about to say "yes" to a pointless project in order to avoid writing, make sure you say NO. Write down: "if so-and-so asks me to run the PTA walkathon, I will say no.  If Carol Sueann says they need me to be treasurer for the RWA chapter, I will say thank you, but I can't this year.  If Bob from accounting asks me to join the bowling league, I will say I'm already booked evenings."  Writing down your plan, again, will make you more likely to actually pull it off when the moment arises.
More than how you'll avoid problems, write down your plan to actually execute your resolution.  Want to write a book this year?  What will that take?  Let's say you're writing a 100,000 word high fantasy novel rough draft.  Will you need to write an outline or do research?  How long will that take?  You're looking at around 400 pages of rough draft.  Will you have a daily word count?  Do you have time to rest and replenish?  When and where will you get writing (and rest! Don't forget to schedule rest!) done?
Who is on your team?
I know, I know… I always say this. But I will keep saying it until it's etched in your brain.
All writers write alone. No writer succeeds that way.
If you really want to pull off your writing resolution, you need a support network.  That can mean a critique partner, or group.  Beta readers, if need be. But most importantly, it means people who believe in you, and who hold you accountable.  These do not need to be the same people, but it helps if they are.
In Charles Duhigg's book The Power of Habit, they discuss the need for belief.  That does not mean faith or metaphysics. It simply means that you accomplish the habit because you believe that it can be accomplished, and that you have what it takes to do so.  If you don't, you can establish the routine, and then keep it up if you've surrounded yourself with key people that you trust who do believe.  In essence, they believe in you until you do.  These are people whose opinions you trust. Much as you may love your mother, if she says "well, of course you can write a book!" and you feel like she's just saying that because she has to, the belief will have a lot less weight with your subconscious than a fellow writer whose work you admire, even if she is unpublished.  Find online writers or face-to-face meet ups, but be sure you have a network. 
When will you reach out?
Having the team won't help if you're not communicating.
Since many writers are introverts, what often happens is, the writing will get rough, we'll suddenly become convinced that what we've got is utter crap, and by God, we'll just retreat into our hamster balls and isolate.  Telling someone we're in trouble is tantamount to admitting we're impostors: that our writing truly is crap, and the people who we admire and respect will suddenly realize that, as well.
Write down a list of "I have lost complete perspective when…" signs.  Set regular check-in dates with your support network.  And show someone your work sooner than you think you should if you find yourself getting stuck and falling way off track.
Which leads us to the final point… 
If you want to change it, you have to track it.
If you want to write that book by the end of the year, then you need milestones.  You need to set some smaller goals — those "one bite at a time" chunks that time management pros keep nattering on about — and then set some deadlines.  You'll also want to check in every week.  (Yes, every week.)  Avoid the very nasty habit of falling behind for a week, and then saying "I'll write twice as much next week."  Give yourself plenty of buffer room, and make the goals manageable (and then maybe double the time, especially if this is your first book.)
The key is to start giving your subconscious some "wins."  Meet your admittedly easy goal a few weeks in a row, and suddenly, your subconscious will start thinking "I am a person who meets her goals."  It generates momentum.
If you aren't meeting your goals, checking in weekly will help you figure out how you got off course. That examination will also help you discover how to get back on course: whether it's talking to a mentor or critique partner, doing a little more research, or getting a little more replenishment (and adjusting your timelines accordingly.) 
You can do it.
Count me among those who believe in you.  I think next year is going to be an amazing year for writers.
So… what's your resolution for the upcoming year — and what are you going to do about it?