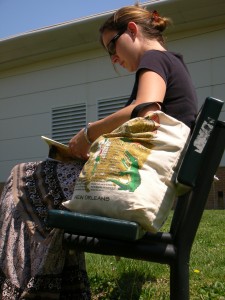 In promotion especially, I see lots of writers talking about craft, or the business, or other writing-related blog posts.  Their primary audience is obviously other writers.
When cornered, they often use the well-worn trope:  well, writers were readers first!  The argument being that if they're writing to other writers, those same writers are going to be communicating to other readers, as well as buying books themselves, so it's going to trickle down.

The thing is, technically, writers still read.  But I don't think that we're readers anymore.
Dual citizenship.
My Mother is Vietnamese.  When she married my father and moved to the U.S., she had to adjust as quickly as possible… which, being a woman from a tropical climate moving to Upstate New York in November, was no mean feat.  She had to adjust to a new language, new currency, and a glaringly different new culture.
She slowly learned how to acclimate.  She had kids. She settled in.
After a few decades, she went back to Saigon, and in a true case of "you can't go home again" she discovered while it had changed, she had changed more.  She was too independent, too brash, and too Western.
In short, she had gone native — she had turned completely American.
She once told me she knew she'd changed when she started dreaming in English.
When we move to being a writer, we start reading through the lens of writing.
I have seen it in other writers.  I've been guilty of it, myself.
After a few years of pursuing writing, especially when we've got a ton of other things going on, we're lucky to be able to carve out time for our own writing, much less reading someone else's for pleasure.
When writing genre fiction, we might find ourselves avoiding that same genre for fear of being overly influenced or derivative.
Or we might start avoiding the genre for the opposite reason: once we start developing our craft, books that were once entertaining suddenly seem to display glaring flaws, like a magician whose tricks you now see through.
We might find ourselves quicker to put a book down.  Or slower to pick a book up, fearful of hype.
When we find authors that can "bring us home" to the state of true reading pleasure, we cherish them.  But we might find those authors are fewer and further between.
And when we dream something strange and fantastic, instead of thinking "wow, crazy dream," we pick up a pen, afraid we'll lose it before we can write it down.
Promotion changes us, as well.
As authors with books to promote, I've noticed that most of us (again, I'm guilty as well) simply lose our damned minds there for a while.
With publishers and every other blog (including this one!) telling us that promo is important, we start obsessing.  If we're among readers, we think oh, crap… I gotta tell them about my book.
So maybe we don't pay attention the way we should.  Maybe we're simply waiting for the discussion to reach a good transition point, where we won't look like total douchebags for saying "oh, by the way… I've got a book coming out that I'll bet you're gonna love."
Or maybe, even when we're participating, we're trying to be insightful — trying to show that we're on the level, that we're worth paying attention to, and that our books are worth buying, dammit.
Either way, when we're among readers, whether we want there to be or not, there is often an agenda. And even if we started out readers, it's a rare promoting author that can act as a "pure reader" when faced with a number of book lovers who read in the same genre she's writing.
Does that mean we can't talk to readers?
On the contrary.  We absolutely should talk to readers — true readers. Not just other expatriates from the land of reading who are nostalgic for the old country.
Even more importantly, we need to listen.
Because frankly, we're not readers anymore.
To remember what it's like to live there, we've got to truly listen to the people who still do.