[Editor's note:  Another great post from our editor, Lewis Pollak!]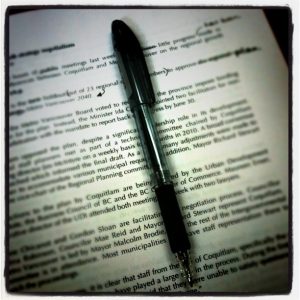 Some years back, long before I started working as an editor, my wife became a writer. Though there was certainly a part of me that thought this was a flight of fancy at the time and that she wasn't serious about it (spoiler: I was wrong), I was very much curious to see her work.
Her response was something akin to, "Hell no," but possibly less polite than that. My wife knows me well, and she knew exactly what would happen.
You see, my background is in academics. I spent years doing research and working on advanced degrees. While I grew up reading a great deal of science fiction and fantasy, the writing I knew as an adult (stop snickering, I hear you) was the sort you'd find in scientific journals.
But I was persistent, and eventually, she relented. What happened next was precisely what she'd feared. I started marking things like sentence fragments and other grammar that didn't meet some standard I had in my head. I was copyediting when what she wanted was a critique. This is not what she, her story, or our marriage needed at the time.
It took a while (and a few smacks with a two-by-four studded with rusty nails), but she eventually helped me learn to look past the grammar and see the story. Without having gone through that process, I never would have gotten into editing. Even after I started, I still had to fight that impulse when doing developmental edits, and the ones I did early on took far longer than they should have and certainly caused undue stress for the authors I worked with as a result.
Editing Stages
I wanted to take a few moments today to talk about the different stages of editing, hopefully helping you understand the editing process better and perhaps putting you on the path to giving better critiques to other authors. Bear in mind that these are generalizations, not absolutes, and that different people may refer to them by different names.
A developmental edit looks at big picture issues: things like GMC, characterization, conflict and adhesion between characters, plot structure, and overall pacing. In the wake of a developmental edit, entire story threads could be changed or removed. Character motivations or flaws might be rewritten. Entire scenes could be moved, removed, changed dramatically, or added. In a perfect world, all the heavy changes happen here. But it is often the case that changes beget other changes down the line. Also, at least for me, there comes a point where it becomes a challenge to clearly envision what the story will look like after those changes are made. Sometimes things that should be obvious can be missed until after the dust settles a bit. It may also be the case that an issue can't be addressed until the author makes some changes. This is often the case with ending sequences, because I don't know how an author might choose to resolve various things.
A line edit is all about the details and more focused on the language, drilling down into individual scenes. Is POV clearly established? Should POV be deeper? Do characters react to stimuli appropriately? Do scenes flow well one into the next? Do conversations drift back and forth between multiple topics or simply drag on too long? Is it clear who is speaking? Could the end of each scene or chapter be stronger so we keep the reader from putting the book down? Are there words/phrases that are repeated too frequently or are used in multiple POVs inappropriately? Is appropriate character movement present?
Keep in mind that if an issue that would normally be discussed in line edits is pervasive throughout the manuscript, an editor may bring it up during developmental edits and give the author a chance to address the issue, which can save a ton of time later on. For instance, if characters never have internal reactions to stimuli/events (and I see that frequently) that should be brought up in a developmental edit. If it is only a problem occasionally, it can wait, so the author can focus on bigger issues.
A copyedit focuses almost entirely on language: clarity, readability, grammar, spelling, etc. That doesn't mean a good copyeditor (and they are worth their weight in gold) won't identify some of the issues above, but their focus should be on the language and continuity, sentence by sentence. Copyeditors are like a safety net. They get paid to see the things others have read five times and never spotted. A good copyeditor understands and respects voice and will refrain from sacrificing voice on the altar of grammar provided clarity is not an issue.
Being a Better Critique Partner
In my eyes, a critique is very similar to a developmental edit, the primary difference being the nature of the relationship between the writer and the person providing the critique. The reason I wanted to go through this was so that you could keep it in mind the next time you are asked to give a critique. Try not to focus on the language. Nitpicking over things like word choice is premature if the entire scene needs to be cut or moved.
Instead, do your best to look at the big picture. Do you like the characters? Do they behave in ways that make sense? Is there enough conflict? Is the plot interesting and does it have some element (or combined elements in some way) that makes it original? Does the story bog down in places? Those are the things that your critique partner probably needs to know in order to make the story the best it can be, not whether they have sentence fragments or they used a semi-colon incorrectly.
Applying Feedback
Give careful consideration to the feedback you receive, even if you disagree. Have you not conveyed something clearly enough? Are there ideas in your head that haven't made it onto the page? Pay special attention to anything you hear from multiple people.
One last thing to note: not all feedback is necessarily right for your story. Know what your vision of the story is. Understand what you want the story to be. Don't be afraid to filter out feedback that doesn't fit that vision. If the feedback identifies a problem but the proposed solution doesn't work for you, consider alternate ways to attack the problem instead.
Then you will be happy, your critique partner will be happy, and there will be no need for rusty nails.