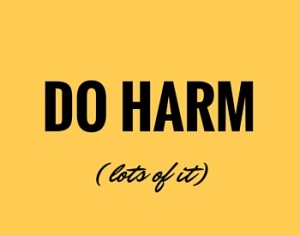 Cathy's note: here's another winner from our newest editor, Lewis! 🙂
If you've watched medical or police procedurals, you've probably encountered the Hippocratic Oath, associated with the Greek physician Hippocrates—that's four syllables, Bill & Ted fans, four—at some point. The oath is often summarized as "do no harm" though those words are not part of the oath itself.
Today, I'd like to introduce a different oath, one for authors and storytellers.
I shall call it the Hypocritic Oath, which states:  "Do Harm."
Think about it. A book where nothing bad ever happened to characters wouldn't be very interesting, would it? Do you want to read a book with no barriers to success of the main character(s)? A book with no conflict?
Ok, so why "hypocritic"?
Because as an author, you do all these terrible things to your characters, introduce obstacle after obstacle into their path, so they can overcome them. You know they are going to overcome them (unless you're the kind of crazy-popular author who can get away with writing themselves into a corner before killing everyone).
It's all about balance.
The more spectacular you want your ending to be, the more triumphant your hero(ine), and the larger the scale of the story, the greater the obstacles there should be, and the more pain and suffering and sacrifice your characters should endure before they achieve victory.
So I am here today to give you permission, as I often have with authors, to Do Harm.
Let's get started.
Repeat after me:
I promise…to do horrible things…to my characters. To fill their lives…with pain…and misery…to torture them…at every turn…and to never…ever…make anything easy.
So, what now? Should you drop meteors on your main character's head in the first scene? Well, I suppose you could, if you want your story (or your character) to be very short.
In many stories, the stakes increase as the story progresses.
This is an easy way to build tension. There might also be an added element of time pressure that comes increasingly into play, like the bus your character is on that can't slow down without exploding might be running out of fuel. Ok, seriously subconscious, why do Keanu movies keep popping up in this blog post?
There should also be a natural order to the challenges you present.
I'm going to pick on the wisest of sages for a moment, "Weird Al" Yankovic. Mr. Yankovic's ability to devise dastardly doings is unparalleled. But sometimes, for comic effect, he likes to screw up the order of escalation. There are a couple of great examples in the song "Virus Alert" from the album Straight Outta Lynwood. If the titular virus has melted your face off of your skull, is limiting your iPod to only being able to play songs by Jethro Tull really much of a concern? Probably not. Similarly, if a rift in spacetime had been torn open, would we really be concerned about litter caused by Twinkie wrappers?
When you are crafting a story, the circumstances should become progressively more challenging as the stakes and pressure increase. Aligning these factors can really help keep the story moving along at a brisk pace.
But if the order is off, the pacing probably will be too.
Now that you've been officially indoctrinated into the Order of Hypocrites (OOH), we should talk about two of the greatest enemies of the Order, "almost" and "nearly". Ever have a character nearly get hit by a car or almost get shot? If you have, ask yourself why that happened.
Why did that car/shot/meteor miss the intended target? Were you subconsciously avoiding inflicting harm (breaking the oath you just took and condemning you to an eternity eating shards of broken glass)? Were you perhaps afraid that if your character were injured you wouldn't know how to deal with that? If the answer to either of those was "yes" then you are injecting yourself into the story, which should be avoided.
Most importantly, if the character had been injured at that point, would it make the story better? Would it add tension and help with pacing? Does the character need something else to overcome at that moment?
Story structure can vary, but in most stories, a series of Bad Things will befall our intrepid heroes after the midpoint, escalating in intensity toward the point where all their hopes and dreams seem to have been flushed down the toilet with all those Twinkie wrappers. One of the many things that Donald Maass talks about in his various books and workshops is taking a situation and making it more difficult.
Here's an exercise.
Take a look at one of your own scenes. What's the situation? How can you make the circumstances worse? Once you have an idea, how can you make it even worse than that?
Have fun with it. Get creative. But do make sure the complication you introduce is organic to the story and doesn't feel forced, you know, like Keanu starring in The Watcher.