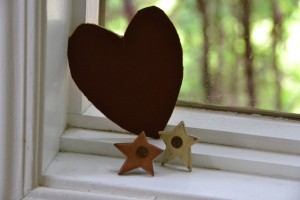 I've talked about tribe building before: becoming a part of a group, making a valuable contribution.
I've heard a lot of people say that they don't know how to do that.  That building a tribe is brutal; they've got nothing to say, they feel like idiots talking about themselves all the time, and that it's either a waste of time or a necessary evil (emphasis on "evil.")
So how do you do build a tribe?
Do five nice things.  Every day.
What do I mean, five nice things?  Well, here are some examples:
Make a nice comment on a blog post, and mean it.  It can start with "great post!" but it's even better if you're clear about what you liked.  Bloggers love comments.  They love it even more when you actually got the point of their posts… because it's amazing how few people do.
Tell someone you loved the same book they did.
Tell an author you loved her book.
Compliment someone:  good looking website, great profile pic, funny share.
Connect with someone.  They like Dr. Who?  So do you!  Fellow foodie?  Share a recipe.  Somebody with a toddler with teething problems?  Share what worked with your two-year-old, back in the day.
Give a helpful suggestion.  You're connecting with readers.  What do readers want?  They want to know about great books. Don't suggest yours off the bat.  Really think about what they've been interested in.  Make a suggestion tailored to them.
Send someone a free story.
Re-tweet something when someone asks.
Say "thank you" when someone re-tweets you.
Send good thoughts, prayers, and condolences.
Send congratulations.  Celebrate with others.
Share a personal story.  Be authentic, and don't be afraid to be yourself.
Most of all… mean it.  Whichever one of the things you pick, do it because you feel it, not because you want to get something from it.
This is just a start.  Listen.  Help.  Commiserate.  Support.
In a nutshell, it's just do something nice.
Do five somethings nice.
And mean it.
"So I never mention my book?"
"Not ever?  How am I supposed to sell anything?  Isn't that the point of tribe building?"
It doesn't mean that you ignore your book.  It does mean that when you do tell others about your book, you believe that it falls into the same category as what you've been doing all along.  You tell other people about your book because you feel they'll be interested.  Because you feel your book is a gift, and that sharing it is a nice thing.
One of your five nice things, in fact.  (But not all of them.)
I can't say for certain that this will "skyrocket sales."  You won't suddenly have a thousand twitter followers.  I can't guarantee the NYT bestseller list or anything.
But you probably won't ever say "God, I hate doing this" and "I have nothing to say."