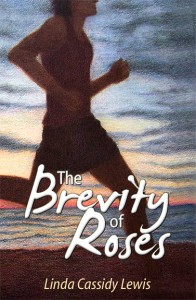 I'm breaking this post into two parts, because just the first five steps clock in at over 1700 words!
Last week, I was grateful to be able to use Linda Cassidy Lewis as a case study on how to profile a Right Reader.  Since she's a glutton for punishment, she's graciously allowing me to use her again… this time to illustrate what I'd suggest be her next 10 steps for promoting her self-published novel, The Brevity of Roses.
The background: promo to date.

Linda "indie" or self-published her women's fiction/commercial lit fic novel The Brevity of Roses in April 2011.  In that time, she's done three interviews and one guest post, and has approached seven review sites.  The book has been featured as a giveaway on Tony Eldridge's Sunday Kindle Book Giveaway, and she's done a Goodreads giveaway, as well.
She's got social media covered.
She's an excellent example of social media coverage:  she's got her blog, which she updates frequently.  She's on Twitter, with about 1300 followers; she's got a relatively new Facebook fan page, she's on LinkedIn, she's active on Goodreads.  But she still hasn't quite reached a sales goal that she's comfortable with.  She's looking to improve her results.
The sticky wicket of Lit Fic.
(Try saying that ten times, fast!)
I was initially a little stumped coming up with my "next 10" promotional steps plan… and then I realized it was because I'd become spoiled by genre book bloggers.  Genre bloggers are a bit more open minded about self-pub; not all of them, but enough that there's wiggle room, and there are also a lot of reader blogs just starting out.  Not so much with literary or mainstream women's fiction, I discovered.
Goals:  tailored and frugal.
Linda's got a great link on her blog called the Frugal Self-Publisher, which tells you a little about her mindset.  She's looking for the most bang for her proverbial buck.  But then, aren't we all?
The First Five Recommended Next Steps
1.  Define goals.
This seems bone-head obvious, but with the clients I've been working with on publicity, I notice when I ask "what are your goals?" their answer is usually:  "I'd like to sell a lot."
On the Kindle Boards, they have specific threads where you can post your sales numbers — sharing information as well as cheering/commiserating results.
This could be a good place to gauge what a realistic goal is if you're self-published and have access to sales numbers.  (For traditionally published authors who are dealing with publisher's voodoo numbers, this is more difficult to use as a yardstick — might be better to target "I'd like to have 20 stops on my blog tour" or "I want 30 reviews on Amazon" or whatever.)
With this magic number in mind, you'll find yourself more focused and more motivated — and more likely to track results.  (See #11.)

2.  Join tribes.
I've said it before, I'll say it again:  everyone writes alone, no one succeeds that way.
I know that Linda has an engaged tribe of her own, with frequent blog commenters — always a good sign in a blog.  I would suggest that she pick two forums to visit regularly, commenting daily if possible… not necessarily about her book, but about things that contribute to the tribe.
Some suggestions:  Writer Unboxed's Facebook group, and Nathan Bransford's forum, or especially the aforementioned Kindle Boards.  Or she could comment regularly on a blog, like Women's Fiction Writers or, again, Writer Unboxed.  (Have I mentioned my great love for W.U.?)
The point of this?  Becoming recognized by people who will help her get the word out.  Ordinarily, I agree with Kristen Lamb: writing about writing isn't necessarily going to get the job done when it comes to courting readers.
But this is women's fiction bordering on lit fic.  Let's just say it's harder to find the reader tribe — they're nomadic, their groups are fluid, they don't necessarily identify with any particular set of fiction favorites.  (While us genre peeps fly our freak flag proudly, baby!  We own our turf!) 
Writers are still readers — more importantly, they're going to help her get the word out as well as help her sell some books.  She's going to be establishing herself as an expert… which is going to help her break into some of the harder-to-crack sites that will really help her get the word out.
3.  Go for cover quotes.
There are three main reasons readers won't buy your book:  they don't know about it; they're not sure about you; and they're afraid they won't like it.
If you get a good cover quote from a known author (or even a lesser-known author in some cases) you're handling the second point. Known authors are like friends to readers: when they say "hey, she's okay" the author is in essence vouching for you.
Of course, this puts a lot of pressure on the quote-giver, because if it's a book that they really feel isn't very good, or just don't connect with,  they're put in the awkward position of saying, "um, sorry" or making excuses. Or they'll go ahead with a "meh" cover quote… and then they're going to lose trust from their readers, who bought the book as a result and feel burned.
I'd suggest Linda approach other authors she trusts, who are aware of her.  Teachers, perhaps; other bloggers.  Ask nicely for a quote; give plenty of leeway for them to back out with no pressure or problems. And ask for more people than needed, because odds are harsh and people are going to back out.
Linda might join the RWA-WF… a special chapter of Women's Fiction writers in the Romance Writers of America.  For one thing, it's a wonderful community, and a great tribe to join.  Secondly, there are a slew of authors there. As Linda becomes more comfortable in the community, she might get offers to "blurb" her book, or at least be in a better position to ask.
4.  Reviews, reviews, reviews.
Reviews, on a book blog or review journal, cover the first two points — readers can hear about your book, and technically, someone else they trust (or else they wouldn't be reading the review) is telling them what you're all about.  Not necessarily as good as friend's word of mouth, but I'd say on equal footing as an author blurb (unless you get somebody like J.K. Rowling.)
As a self-published author, Linda's in a tough spot. It's the Wild West out there in Publishingland.  Some reviewers still look askance at self-pubs; others have simply closed their doors due to the sheer volume of self-publishing out there.
Here are five places to start with (and I'd recommend submitting to as many as budget will allow):
5.  Re-vamp the book page.
Your book page is a sales page.
There is only one thing you want people to do:  buy the book.
Here's where those "reader objections" thing come in.  If they've gotten to your book page, then they're at least primed.  You've probably gradually gotten them there, through stuff you've posted on your blog, which they got to from one of your comments on another blog or on your social media or whatever.
Point is, they're on the brink, and you need to show them they're in good hands… and give them all the information they need to decide on whether they'll buy your book or not.
In Linda's case:
I'd lose the sidebar that has a repeat of her Amazon widget, her social media links, her "recent comments" and her blog roll.  Keep the focus purely on the book.  (From a design standpoint, the two book covers next to each other is a little distracting.)
Personally, I'd recommend losing the quote from Emily Dickinson, lovely though it is.  (And it is lovely, I'm not just saying that.)
I'd cut the paragraph: "The Brevity of Roses is a contemporary tale of love, loss, and redemption told through the voices of one man and two women. The story is set in the fictional California towns of Coelho and Bahia de Sueños."  It shows us about the story, but people don't say "I'm looking for a  story told from the voices of one man and two women."  They love the story arc itself; in literary fiction, they might prefer the voice.  Either way, this paragraph doesn't work towards convincing a reader.
I'd bump up the back cover copy… bring it up, front and center.  Maybe even open with a block quote sentence from the novel, that captures the feel or theme, instead of the Emily Dickinson quote.
I wouldn't refer to the links to the excerpt, or reader reviews, etc.  I wouldn't include the character who's who at all, simply because it doesn't seem fitting — whereas if she were writing an epic world-building fantasy saga or historical family drama, then that would make sense, but not for a women's fiction necessarily.  (Unless she's building a series…but even then, not until other books are available.)
Instead of reader reviews, I would only include either the author "blurb" cover quotes, or review quotes from book bloggers or review sites.  Instead of linking to them, I'd have them as emphasized block quotes, right there on the page.
I would include buy links on the page itself; just because the widget's removed doesn't mean it shouldn't be there.  Definitely include an affiliate-sale link to Amazon; also Smashwords, and anywhere else available.
I would include the excerpt on the page.  Don't make them click to it: provide it, right there.  That's the hook — that should be what sells them.
Ask for the buy.  Don't just say: "Available for sale."  Say:  "Buy now."  (That doesn't mean you're going to add "SUNDAY!  SUNDAY! SUNDAY!" or anything crass… but it turns out people need some sort of direction.  That's where the call to action comes in.)
Okay, that's it for today.
Next week:  Part 2 — the next 5 steps.
If you found this helpful, or just want to  wallop one of your friends with a 1700 word read, please re-tweet! 🙂