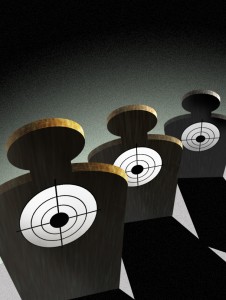 Jim Butcher is the kick-ass, brilliant author of the Urban Fantasy mystery series The Dresden Files.  He's got a number of unique qualities in his writing (as well as a plotting acumen that I frankly bow at the altar of) but I'd say his Hedgehog (or unique "thing") is his world-building, and his "Buffy Noir" voice, as well as the twist of  a supernatural flatfoot roaming the streets of Chicago like it was its own character.
So who might like this?
Offhand?
I'd guess his Right Reader is male, probably between late twenties and early fifties, who likes Star Wars, D&D, Magic: the Gathering.
His Right Reader watches comic book movies like Thor and Green Lantern; he also likes The Adjustment Bureau and Inception.  Watches SyFy channel, probably stuff like CSI or Criminal Minds.  Probably reads a lot of blogs and is very tech-savvy.  Quite possibly plays World of Warcraft and owns several gaming platforms.
Now notice:  I largely don't fit this profile, and I am a huge Jim Butcher fan.  I am a walking infomercial for the Dresden File series.
So why do I draw the profile this way?
Because these are people who are most likely to connect to it just from hearing about it.  They'll read the back cover blurb, they'll see the storyline, they'll read the first page or two.  They'll be in that section of the bookstore.  Or they'll be lurking on the sites that might discuss it.
Also: they are the most likely to be very vocal about their enjoyment.  Furthermore, their network is most likely to be receptive to hearing about it.
I spread the word, too, but my network isn't primarily paranormal/urban fiction, so the odds of it spreading are half of what his Right Reader would be.
How did I do that?
1. Start with gender.
Romance skews heavily female.  Sci-fi/fantasy written by men still skews male, even if fiction readers in general favor women.  With stuff like legal drama or police procedurals, it'll depend on some other factors, like what gender your protagonist is.
Odds are good you're writing for your own gender, and odds are equally good your publisher thinks the same way.  If you're a woman and they're asking you to change to initials, odds are good they're trying to attract male readers, btw… they know women will find you anyway, and men might be more put off by "Jane Writer" than "J.B. Writer."
2.  Look at age range.
Jim Butcher's main character is in his thirties… young thirties, at that.  I'd use that as an initial, and then expand the range to about a twenty-five year spread.
I don't worry too much about age, but it helps to round out your profile.  (I find I picture my Right Reader at about my age, or the age of my character.)
3.  Look at what makes the story special.
Harry Dresden, the protagonist, is a flatfoot Wizard who solves crimes and saves the world with a tongue in cheek elan.  That said, he also uses lots of Star Wars references, plays Dungeons & Dragons-styled games with his friends, and basically lives like a poor college student.  He's funny as hell. All these details flavor his character and separate it from other Urban Fiction Noir out there.

4.  Look at who would most appreciate what makes the story special.
Star Wars fans, obviously.  People who go to the ComicCon.  D&D enthusiasts.  The short-lived show based on the series was on SyFy, so that was a slam-dunk.
I guessed on the TV shows, but there is a strong mystery element, as well as humor, in the series… and you get involved with the characters' personal lives, as well.  That's where Criminal Minds and CSI tie in: the Dresden series isn't a light, cozy mystery, or a romance where the mystery element is almost secondary.
(For those cozy sort of stories, I imagine you'd see more fans of Castle or Bones.  This isn't knocking them — it's just that the forensic "look, a dismembered arm" factor is downplayed in those, and the humor and romance is turned up.)
5.  Picture someone you could imagine hanging out with.
This is crucial. If you don't actually like your Right Reader, or don't see anything in common with her… you've got the Wrong Reader.
This is an art more than a science. There's no real penalty if you get it wrong, other than missed sales. (Which, admittedly, is painful enough.)
Most writers I know sort of flounder with their promotion, going for every audience possible, like shooting buckshot and seeing what falls.  Of course, sometimes they're simply shooting in an empty field, and sometimes they don't have a lot of money for ammo, but they try their damnedest.
(I need new, non-violent metaphors!)
In the next post in this series…
I'll give you some hints and cheats on fleshing out your Right Reader profile.
If you found this helpful, please re-tweet on Twitter, or "like" on Facebook (you can even use the handy-dandy little boxes, below, where it says "share the knowledge!")