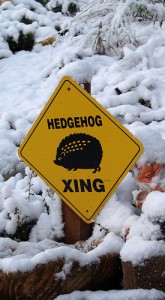 Note:  this is a reprint of the original blog post, which disappeared when the blog imploded.
I got the term "rock your hedgehog" from Danielle LaPorte, who in turn got the idea from Jim Collins and his book Good to Great.  Honestly, I have no idea why it's called a hedgehog.  (I've been toying around with calling it the Sweet Spot… but then, at some point, I wind up saying "let's find your sweet spot!" and it sound vaguely naughty and awkward.)
So what is this hedgehog thing?
It's really the intersection of three different criteria:
1.      What you love
2.      What you're best at
3.      What the market wants
It's an easy enough concept.  But finding that intersection… now, that's the trick.
What do you love?
What are you intensely passionate about?  This could cover reading: do you love a particular sub genre?  Adore a certain time period?  Do you love books that are emotionally wrenching, or do you love a good laugh with high adventure?  Do you love steampunk, or chick lit, or inspirational?  Do you like reading about different countries, acting as an armchair traveler?
When it comes to your writing, what are you passionate about?  Odds are good you've got a personal theme that comes through in your writing.  It's worth investigating what those themes are.  (I personally believe that every single book that I've written has told me something important about my life… and usually something I wasn't really paying attention to!)
I love totally engrossing stories: I love fun and light stories, too, and I crave elements of humor, but at the end of the day, I love books that take me away for it all, that make my pulse pound a little, my heart warm a little, and the pages keep turning.
What are you best at?
Here's where a good critique partner or someone who's been reading your work for a while (and who is a writer) can help.  You might not have the space or perspective to judge what you do best.  You might know what you like to do best, which would be a good start.
I love historical romance.  I even have the beginnings of a regency, tucked away in some dusty archive files.  But I know that while they're fun to read, I hate writing them.  I'm paranoid about the level of detail that needs to be included, and my voice doesn't match the period at all.  So I know that no matter how much I loved it, writing a historical just isn't in my hedgehog.
So where do you feel your natural voice lies?  Do you do world building well – whether it's making a believable sci-fi setting, or a fully realized small town?  Are you best at building sexual tension?  Do you have a flair for dialogue, or maybe thrilling action scenes?
Discovering your natural talents, then seeing where that matches what you love, will help you write something that's both authentic and most likely to break out.
What does the market want?
And here's the rub.  For example, I loved writing Chick Lit.  I think my voice lends itself most naturally to that genre.
Wouldn't you know it?  Chick Lit went from being the hottest sub-genre on the planet to a leper in about twelve months.  You can't even sell a manuscript labeled Chick Lit.  They're calling it "humorous women's fiction," and it's still a tough sell.
That said, I believe that comedy is making a comeback – it's been about ten years, and with everything going on in the world, people will need the humor for relief.  I still strongly believe that.  Everything in this business is cyclic.  And I have heard rumblings that editors are starting to put out feelers for really exceptional stuff.  (When the market heats up again, they'll care less about "exceptional" and more about "available" but that's simply the cyclic nature of the business.)
So how do you know what the market wants?  You could read stuff like Publishers Lunch, which tells you what editors have been buying with a brief description.  You could read a few editor or agent blogs. If you write romance, Karen A. Fox pulls the romance section of Publisher's Lunch and posts it, archiving back a few years.  (That's handy for editor and agent research, btw.)
I think the most important thing is figuring out the first two elements – what you love, what you're best at—then figuring out where you fit in the third element.  It's too easy to look at what's hot in the market and think, "Sure, I love erotica" when you really don't.  (Incidentally, the erotica market is waning right now.  Just sayin'.)
ASSIGNMENT:
1. What do you love?  What do you love to read, what themes do you like, what do you enjoy writing?
2. If you've got a critique partner or two, ask them what they think you do best.  (This always feels awkward, but it's worthwhile – you'll see things that surprise you. Ask several people, because odds are good you'll get differing viewpoints, and a few people will feel too shy to answer.)
3. Connect with the industry.  Look at Publishers Lunch or read an industry blog this week. (I'd suggest an agent's blog, like the Dystel Agency or Donald Maass' agency"s monthly "what we're looking for" on their site.)
4. Draw the Venn diagram, and… well, find your Sweet Spot.
There.  I said it. 😉