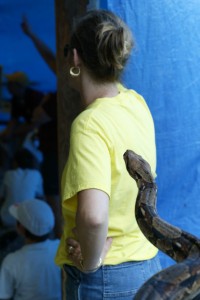 I was recently reading a discussion over on the Amazon discussion boards about a new feature Amazon is introducing, to try and crack down on the infestation of blatant, clumsy, and otherwise invasive self-promo that has been cropping up, choking out a lot of reader discussion. (One reader called the forum "Village of the Spamned.")  The readers on the romance forum were overjoyed that Amazon was finally policing their policy.
Frankly, I can't blame them. And as one commenter pointed out, "the worst part is, their publishers are telling them to do this."
The difference between good self promotion, and bad self promotion.
You've got a book coming out in a few months.  Your publisher tells you, "You need to start building your platform!  Get out there!  Get on some forums!"
They don't tell you what to say, or how to say it.  They're not quite sure which forums they're talking about, although "That KindleBoards thing seems to be really hot, look at what it's done for Amanda Hocking!"
They don't tell you about the culture.  And they don't prepare you for what's about to happen next.
One of the lowest rings in hell.
If you're a true introvert, going into a busy, social forum can be like going to a cocktail party where you don't know anyone.  You're a little nervous to make a comment, because you're afraid you're either going to be mocked or ignored.
At this point, you're not quite sure which is worse.
But your publisher has told you to get your name out there, and damn it, you're about to tunnel out from your cubicle with plastic spoons you've stolen from the break room. You are going to make this book a success if it kills you.
So you jump on a board, and announce:
"Hi, my name is Jane Author, and I've got a book out in two months.  It's about (one sentence high concept elevator pitch)!  I hope you like it!"
Then you duck behind a couch and pray that the worst doesn't happen.
What's the worst?
You will hear one of two things.
One:  the awkward chirps of crickets as there is a huge crush of indifference to your post, and various conversations continue around you.
Or two:  the quick "fwoomp" sound of flamethrowers being lit, as you are roundly pointed out as a self-aggrandizing clumsy promowhore who is automatically not going to be purchased by anyone in the near future.
Actually, there is a third sound you might overlook: the soft "click" of a link called:  report abuse.
Obviously, you don't want to do that.
Don't do this, either.
Some authors try the Clumsy Random Segue.
Let's say there's a discussion going on about albino vampires who drink V8.  You have a vampire book.  You then post a comment like this:
"I love vampire books!  In fact, that's why I wrote my vampire book.  It's called Puncture and it comes out in June!"
Again.  Crickets or flames, or that soft little click.
So what do you do?
Pretend you're a reader.  Only a reader.
That doesn't mean put on the persona of a reader.  That means tap into that part of yourself that started out just loving books, unaware that you would also one day be writing your own and having them published.
It doesn't mean that you lie and say you don't write books. It means you don't mention it unless someone asks.  Don't make a big production of it.  Don't make a signature block that looks like a billboard.
Just say, "Hi, I'm Jane Author.  I love books by (favorite authors.)"
Contribute.
If you can give something to the conversation, even if it's just "I didn't know about this author, thanks for the rec!" or "I can not wait until (whoever's) next book comes out."
Or if you know other authors that you genuinely love, not that you're trying to impress or whatever, mention them.
"So how does that help build my platform?"
One is the number one reason why readers don't read your books?  It's not because they don't know about them.  It's not because they're not interested in the concept.
The number one reason a reader doesn't buy your book is because she does not trust you.
These days, even $1.99 can be too much to risk on a book that's going to suck.  She needs some reassurance.
She doesn't need to hear how cool your premise is.  Doesn't want to know who your main characters are.  Doesn't care about your blog tour.
She wants to know that you're like her: someone who loves stories.  And who hates being harassed by over eager advertising.
"Am I supposed to befriend 100,000 readers to make a bestseller list, then?  I don't have that kind of time!"
There is a short-cut, of sorts, to this "get to know me" approach.  If you're on a forum, odds are good you are connecting with connectors.  In Malcolm Gladwell's book The Tipping Point, he mentions Connectors, people who are part of a large group of "loose bond" friends.  They also tend to be really plugged in, and have an almost compulsive need to share information with their networks.
You don't need to know everybody in the network.  You just need to know the Connector… and have her vouch for you.
They even have a fancy information marketing name for it.
SOCIAL PROOF.
I'll be blogging more about social proof soon, but in the meantime, if you're on a forum, think about what you're posting.  Pretend you don't know you.  If someone sent you that post… how would you feel?
If you've been the victim of some other author's self-promo attack, or otherwise found this article helpful, be a love and hit the Retweet button, please?  😀
UPDATE:
I just wanted to clarify a few things, after some very cogent points from the fine folk on the Amazon romance forum.
This is NOT advocating "okay, Amazon is cracking down, we're just going to be more covert in our attempts to snag readers."
This "strategy" is not about figuring out a "sneaky backdoor to promotion."  No, no, NO!
Yes, you want to promote your books as an author.  Nobody's saying shave your head, wear brown paper robes and give away your fiction for free.
What I am saying is:  people in forums do not wish to be "promoted at."
Let me repeat that, loudly.  PEOPLE IN FORUMS DO NOT WANT TO BE "PROMOTED AT"!
So what do they want?
They want to have conversations about books they enjoy, and don't enjoy.  They want to share a love of reading and connect around a passion we all should share.
They are not sheep waiting to be fleeced.  They're not a market to be harvested.  They are people who love to read.
I'm going to be blogging about having a strategy without sounding like a criminal mastermind, too.  Sounds like I've got a busy week!  😀